[vc_row row_type="row" use_row_as_full_screen_section="no" type="full_width" header_style="" parallax_content_width="in_grid" anchor="" in_content_menu="" content_menu_title="" content_menu_icon="" angled_section="no" angled_section_position="both" angled_section_direction="from_left_to_right" text_align="left" video="" video_overlay="" video_overlay_image="" video_webm="" video_mp4="" video_ogv="" video_image="" background_image="" background_image_as_pattern="without_pattern" section_height="" parallax_speed="" background_color="" border_color="" row_negative_margin="" side_padding="" parallax_side_padding="" padding_top="" padding_bottom="" color="" hover_color="" more_button_label="" less_button_label="" button_position="" css_animation="" transition_delay=""][vc_column width="1/1″][vc_separator type="normal" position="center" color="" transparency="" thickness="" width="" width_in_percentages="" up="" down=""][vc_column_text]
PRIVATE RETREAT | NOSARA | COSTA RICA
[/vc_column_text][/vc_column][/vc_row][vc_row row_type="row" use_row_as_full_screen_section="no" type="full_width" header_style="" parallax_content_width="in_grid" anchor="" in_content_menu="" content_menu_title="" content_menu_icon="" angled_section="no" angled_section_position="both" angled_section_direction="from_left_to_right" text_align="left" video="" video_overlay="" video_overlay_image="" video_webm="" video_mp4="" video_ogv="" video_image="" background_image="" background_image_as_pattern="without_pattern" section_height="" parallax_speed="" background_color="" border_color="" row_negative_margin="" side_padding="" parallax_side_padding="" padding_top="" padding_bottom="" color="" hover_color="" more_button_label="" less_button_label="" button_position="" css_animation="" transition_delay=""][vc_column width="1/2″][vc_column_text]
MAY 1-10, 2017

MINDFULNESS | YOGA | LIFE COACHING
In this retreat we will take a deep dive into the teachings of Yoga, Mindfulness Meditation and group Coaching to release what no longer serves you and invite in that which supports you to step into the fullness of who you are. Expect to return home deeply RESTED, REJUVENATED, RENEWED AND INSPIRED like never before.
LIMITED SPACE – 6 PARTICIPANTS ONLY:
The group is limited to 6 participants, allowing for lots of INDIVIDUAL attention, this supports for profound TRANSFORMATION to take place on whatever level you need it most.
THE VILLA
The stunning private VILLA CANOPE is located in Playa Guiones NOSARA Costa Rica. The villa offers high-end accommodation with large pool and breath taking nature views. Scroll down for pictures. Enjoy the HEALING power of raw and untouched NATURE, the exquisite teachings of YOGA, MINDFULNESS and LIFE COACHING, in a high end luxury setting.
YOUR HOST
This EXCLUSIVE experience will be hosted by LYDIA MELLAART. Yoga Instructor, Mindfulness Trainer and Life Coach. She is here to guide you on this journey of self-awareness, the ultimate accelerator of lasting change, clarity of mind,  profound contentment and fun!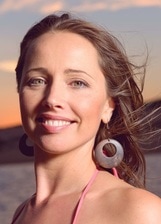 NOSARA'S SECRET
The raw NATURE of Costa Rica calls you home to yourself like nothing you have experienced before. There is untouched nature all around, endless amounts of trees, flowers and greens, beautiful wildlife, a clear blue warm ocean and a community of conscious people. This area is one of the most HEALING environments worldwide.
PURA VIDA
In Costa Rica you will be greeted with a heartfelt PURA VIDA, meaning PURE LIFE, a blessing and invitation to live a peaceful, simple, uncluttered life with a deep appreciation for nature, family and fiends; a "real living" that reflects happiness, well-being, conformity and satisfaction. And that is exactly the vibe you instantly can relax into.
NOSARA IS CENTRAL-AMERICA'S HEART FOR
Raw Nature – Epic Surf – Yoga Vibes – Fitness Spirit – Amazing Health Food – Thousands of Turtles – Breath taking Canope – Monkeys – Squirrels – Sunsets – and so much more.
FREE TIME
Next to the daily program there will be plenty of time to explore the surroundings, take surf lessons, enjoy horse riding, check out the restaurants and shops, go for canope, waterfall, paddle surf and long beach walks.
SHARED DOUBLE  – PRICE € 2999
PRIVATE DOUBLE  – PRICE € 3999
Including high-end accommodation and DELICIOUS meals.
For bookings or questions, please call me on +34 627 937 513 or e-mail lmellaart@gmail.com.
[/vc_column_text][/vc_column][vc_column width="1/2″][vc_single_image image="16963″ style="vc_box_circle_2″ border_color="grey" img_link_large="" img_link_target="_self" img_size="medium "][/vc_column][/vc_row][vc_row row_type="row" use_row_as_full_screen_section="no" type="full_width" header_style="" parallax_content_width="in_grid" anchor="" in_content_menu="" content_menu_title="" content_menu_icon="" angled_section="no" angled_section_position="both" angled_section_direction="from_left_to_right" text_align="left" video="" video_overlay="" video_overlay_image="" video_webm="" video_mp4="" video_ogv="" video_image="" background_image="" background_image_as_pattern="without_pattern" section_height="" parallax_speed="" background_color="" border_color="" row_negative_margin="" side_padding="" parallax_side_padding="" padding_top="" padding_bottom="" color="" hover_color="" more_button_label="" less_button_label="" button_position="" css_animation="" transition_delay=""][vc_column width="1/1″][vc_gallery type="flexslider_fade" interval="3″ images="16938,16889,16929,16907,16920,16918,16917,16914,16906,16901,16900,16899,16892,16890,16886,16874,16969,16966,16962,16960,16950,16952,16948,16989,16988,16987,16986,16985,16993,16984,16983,16982,16981,16980,16979,16978,16977,16976,16975,17001,17002,16995,17000″ onclick="link_image" custom_links_target="_self" column_number="2″ grayscale="no" choose_frame="default" images_space="gallery_without_space"][/vc_column][/vc_row]